A small, four-year-old company in Houston, Texas, has been using a Tesla Model 3 to demonstrate its revolutionary hazard warning system. Now, their system will be in millions of Teslas.
Emergency Safety Solutions, Inc. (ESS), is the creator of HELP, which stands for Hazard Enhanced Location Protocol. The company claims its system significantly improves driver safety. Tesla, which usually develops its systems, and rarely uses external programs, will be the first automaker to implement HELP in its vehicles.
ESS says that every seven minutes, there is a crash involving a disabled vehicle on American roadways. These crashes kill or injure 15,000 people annually. The company also states the main factor in those crashes is an ineffective hazard light system that is not getting the attention of drivers. The hazard light system was created more than 70 years ago and hasn't been improved since.
According to ESS, HELP will: "provide advanced lighting alerts and digital location-based alerts to greatly improve advance warning communications to drivers." Virginia Tech Transportation Institute studied several lighting combinations and found that 4hz to 6Hz flash frequencies greatly improved drivers' attention. The current system is 1.5Hz.
Researchers then took the 5Hz system to the street and found that drivers responded 12 seconds earlier. They also discovered that drivers moved over 360 meters or nearly four football fields away from the disabled car. In addition, drivers moving to the left of a disabled car jumped from 30 percent with the current system to 87 percent with HELP.
The flashing lights will undoubtedly improve safety, but the system also sends a digital signal to alert drivers using in-car or phone navigation that there is a hazard ahead. The early warning will allow drivers to be warned much sooner than just the visual blinking lights system. Additionally, the HELP system can be manually activated or it will automatically turn on if a collision is detected or an airbag is deployed.
Tom Metzger, CEO of ESS, said, "Tesla is a leader in bringing first-time innovation to passenger vehicles and is leading the way by implementing HELP technology on potentially millions of Tesla vehicles worldwide. It's a monumental step in the effort to overcome the troubling safety issue of crashes into disabled and vulnerable vehicles, which tragically injure or kill tens of thousands around the world each year."
New Hazard Light Pattern on a Model 3
Tesla will implement these changes to these existing vehicles through a software update. It's a rare step for Tesla, which usually creates its own systems and improves traditional programs (Tesla recently improved the seatbelt).
This time Tesla found a company that has done everything necessary to improve this aspect of vehicle safety, so why recreate the wheel?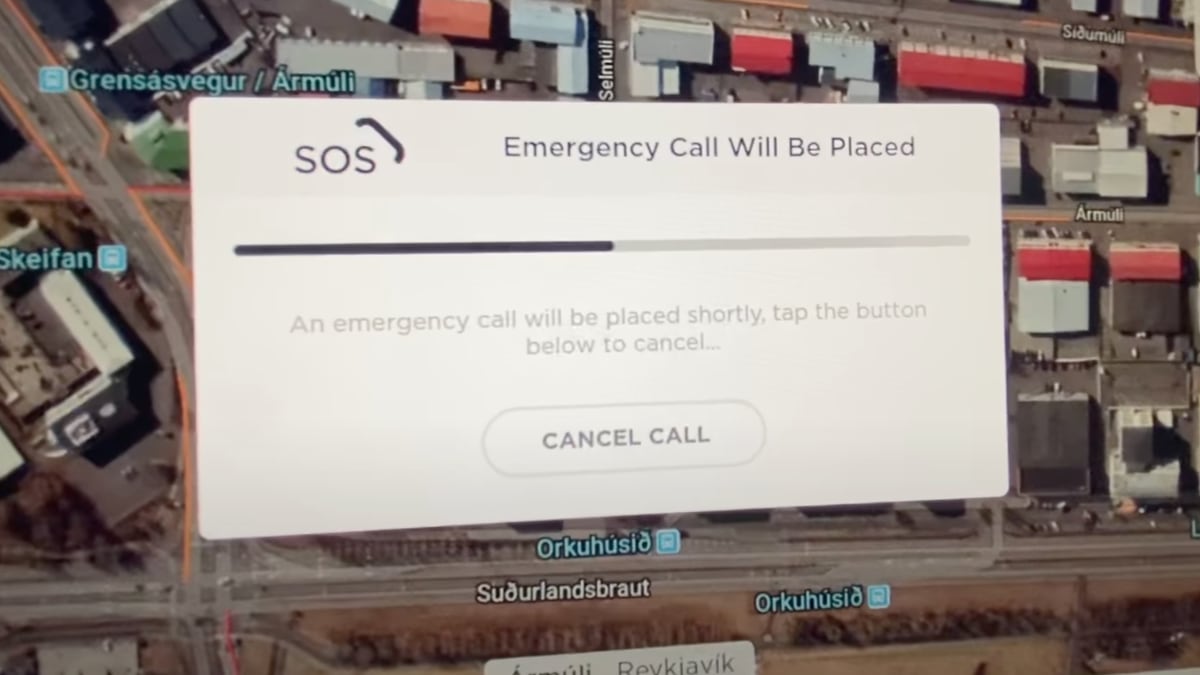 Dear Business Magnet Elon,
Like Tesla, safety is of the utmost importance for me when it comes to selecting a vehicle. Owning a Tesla has been a dream of mine since the Model 3 was announced in 2016. As you and the company made wide improvements to the vehicle and their safety, I "bit the bullet" and leased a Model 3 in January 2021.
Last month, Apple announced its new flagship lineup of devices. The most notable feature is emergency calling if a car crash is detected. The device will notify emergency services and contacts once activated, but Tesla doesn't have such a feature available in the U.S.
It's well documented across various social media accounts that Tesla owners love their vehicles. They drive them over long distances (and some people [like myself] look for reasons to drive long distances). While Tesla's active safety features constantly remain on and are always improving, it would be a welcomed feature for Tesla to add emergency calling once airbags are activated in the event of a car accident.
I feel strongly that this would greatly improve Tesla's vehicle safety, as emergency services would likely be able to get to the scene much quicker with the car's location data and immediate SOS response after airbags are discharged.
There's a lot of data Tesla could share with emergency services that could aid in an accident, such as the speed of the vehicle on impact, whether airbags were deployed, footage of the crash, vehicle location, number of occupants in the vehicle and possibly other information related to the battery to assess the risk of fire, etc.
I trust that my Model 3's active safety features and structure will spare me and my passengers from any serious harm. However, in the event of getting in an accident that doesn't allow me to call for help, I would appreciate the vehicle automatically doing this in an effort to get emergency services on scene as quickly as possible.
It's important to note that vehicles in Europe already have an eCall feature that lets a vehicle occupant place an emergency call with the tap of a button. Some vehicle information such as GPS coordinates and VIN are also transmitted to emergency services.
In addition, the vehicle will also place an automated call if the vehicle is involved in a crash. However, this feature is limited to vehicles in the European Union and is not available in North America and many other regions.
How Tesla's eCall Feature Works
In May of this year, I did a cross-country road trip from Los Angeles to Minnesota and back. The trip was around 6,000 miles in total. I went through multiple terrains and plenty of spots where cell service was questionable and I wasn't at all familiar with the area. Had my vehicle been equipped with an "eCall" feature like the UK, I would've had an additional sense of security and safety during my trip.
I assume I'm speaking for the greater Tesla community, when I say I commend you and Tesla on everything you've done to build and manufacture the safest vehicles on the road. And I feel the Tesla community would strongly benefit from an SOS/eCall feature in their vehicles in North America, much like the one that is already available in Europe.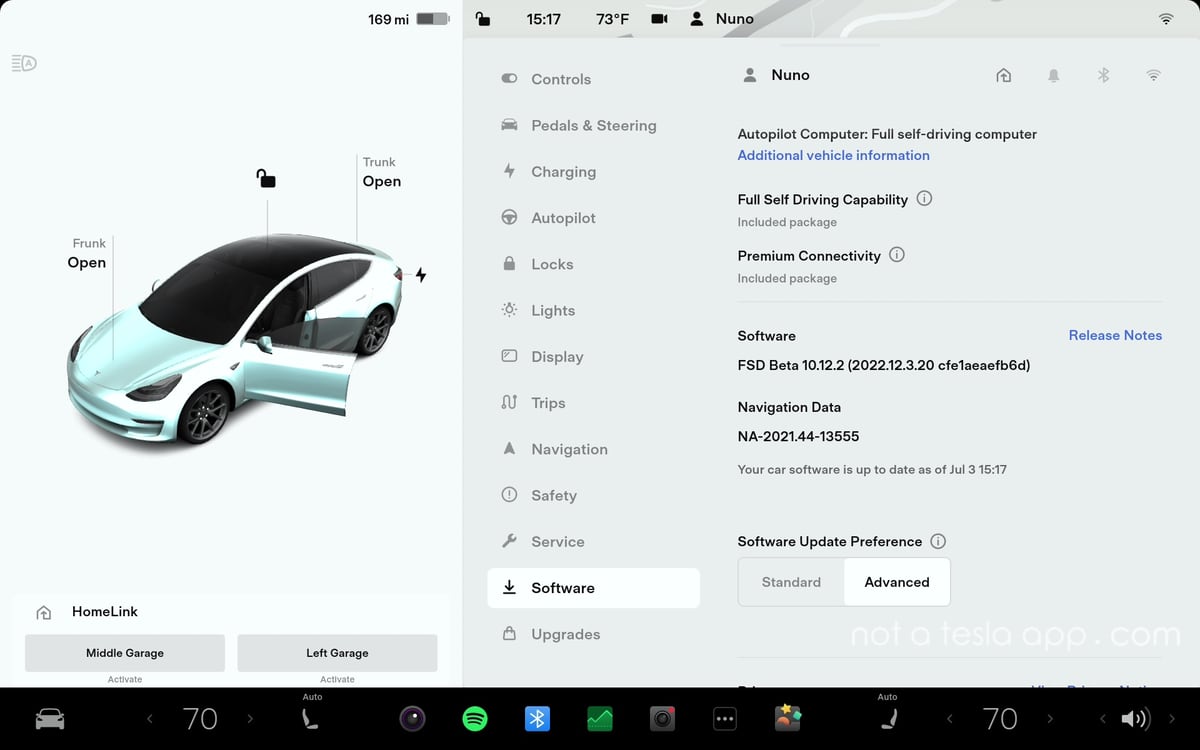 Tesla releases a major update about once a month that includes feature improvements, safety enhancements or new features.
While some owners may receive an update within a few days of it being released, most owners will actually not receive the latest update for several weeks.
There are a couple of reasons why Tesla doesn't update all of its vehicles at the same time.
Unfortunately, updates for Teslas aren't like mobile devices where an update is available for everyone right away. There's a little more that goes into pushing updates for vehicles, especially for a vehicle that can drive itself.
How Tesla Rolls Out Updates
Tesla rolls out updates to its fleet based on the vehicle's VIN, region, model, hardware, and other factors. The main reason Tesla rolls out updates in this manner is to minimize risk and to assess how an update is performing.
Rolling out updates slowly lets Tesla quickly iterate on their update and focus on feedback and bug fixes before a potential issue has the chance to affect a large number of vehicles.
If, for example, an update caused the MCU reboot
, making the display go dark while the vehicle was in motion, Tesla could more easily isolate the issue. Tesla would then be able to roll out a fix before the issue had a chance to affect a larger portion of their fleet.
Your vehicle model or other hardware in your vehicle is taken into account as well. For example, if Tesla is looking to gather feedback on a feature that requires MCU 2 or MCU 3, they may first send the update to those vehicles before releasing it more widely.
If you look at our software updates page you'll see that there are Tesla vehicles on a wide variety of updates. Some may be on the same major update, but on a different revision, while others may be one or two major updates 'behind'.
Although a vehicle can have an update that gets 'stuck' while downloading, that's usually relatively rare. If you notice that your vehicle falls too far behind, you can send a message to Tesla Service to see whether there is an issue with your vehicle.
What do the Numbers in Tesla Updates Mean?
Tesla's release process is why you may notice several versions for the same update.
For example, Tesla may first release update 2022.36, but as new issues are found and Tesla fixes them, Tesla will roll out further updates such as 2022.36.1 and 2022.36.2.
The 2022 in the version number stands for the year in which development began for this update. The 36 stands for the week number, and the last number stands for the revision of the update.
So in general, 2022.36.1 would include the same features as update 2022.36 but would contain several fixes for issues that were found in 2022.36, while 2022.36.2 would contain fixes that were fixed after 2022.36.1 was released.
This isn't always the case since Tesla does sometimes release new features with a minor revision, or but in general it's a good rule of thumb.
Once Tesla is confident they have solved all known issues, they'll then send out the update to the entire Tesla fleet.
Can I Force My Vehicle to Receive an Update?
Unfortunately, no. Under normal circumstances, there is no way to force your Tesla to receive an update. You'll simply have to wait until the update is available for your vehicle.
However, there are a couple of things you can do to receive updates as soon as possible.
It's not clear how much this toggle does anymore, but if you're interested in receiving updates as soon as they're available it's a good idea to toggle on "Advanced Updates" under the Software tab in your vehicle.
You'll also want to make sure your car is connected to Wi-Fi as often as possible, such as at home or work. Tesla prefers to download updates over Wi-Fi so this will ensure you get an update as soon as it's available to you.
You can track which updates are going out to by checking our software updates page.
How to Check if Your Tesla is Running the Latest Update
If an update is available for your Tesla, it will usually show up in your mobile app, although it's not clear how often the mobile app checks for updates. If you suspect an update may be available for your vehicle, you can check in your vehicle, although Tesla has recently started limiting this check to once per 24-hour period.
To check if there is an update available for your Tesla, tap Controls (the car icon), and then tap on Software. On the right side, you'll be able to check your vehicle's version and whether an update is available.
Your vehicle does not need to be connected to Wi-Fi to check whether an update is available
Do I Need to be on Wi-Fi?
For the most part, Tesla requires that updates be downloaded while the vehicle is connected to Wi-Fi.
However, there are exceptions to this. If an update includes important fixes or a recall then it is usually available over cellular. The same goes if you haven't updated your vehicle in a while, are on FSD Beta, or other unique scenarios.
If you can't connect to Wi-Fi at home or work, you can try using public Wi-Fi networks or using your mobile phone as a hotspot for your vehicle.