CASPER, Wyo. — Around 10:30 a.m. Sunday, Casper's amateur radio club was still in the thick of its annual Field Day session, which began at noon the previous day at the Natrona County Fairgrounds.
"We're a little road-weary," joked Tate Belden, an officer of the club, sitting outside with several other members.
The goal, which is the same at every Field Day, is to make contact with as many other operators as possible throughout the country and even internationally. The principle of amateur, or "ham," radio is to communicate without using the Internet, or really any network besides radio waves. 
"This is uber-nerd stuff here," warned a club member as he opened the flap to the tent.
Inside the broadcasting tent, ham operators were still going strong. Trophies from the night before — Chinese takeout sauces, beef jerky, finished cans of Code Red Mountain Dew — remained, amidst many pieces of equipment and a sea of cords and wires.
"Whiskey Seven, Victor November Juliet," club Vice President Peter Dewes repeated into his microphone, faint chattering emitting from his headset. He typed the other side's information into the hefty laptop in front of him, state names turning from red to blue as he logged them.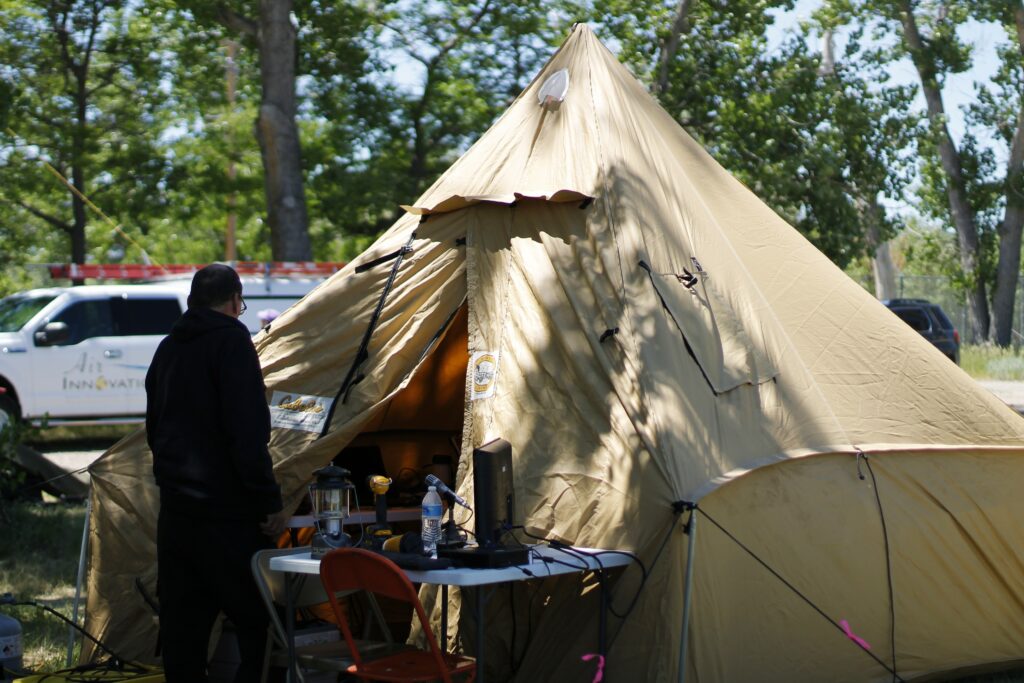 Casper's ham radio club identifies itself using its call sign, W7VNJ, when it makes contact with other ham operators. For clarity, it uses the NATO phonetic alphabet. Operators have their own personal call signs as well — President Garth Crow pays for his to have the letters "WY" together in it, like a vanity license plate.
"They're calling CQ, which is, 'Anybody out there, talk to me!'" Peter explained. "When I answer them, they'll give me their information. I'll get his call sign, I'll put it in there. I'll get his class, which is how many radios they've got, or just the three."
Certain ham radio groups, most notably in California, can have as many as 15 to 20 radios on Field Day, with so many operators that they have to work in shifts, continued Peter. The club's logging software splits the state into several parts, presumably for this reason.
Last, Peter collects the other party's section, or designated group of states, identified by a number within its call sign. Wyoming's section is 7, which it shares with nine other states.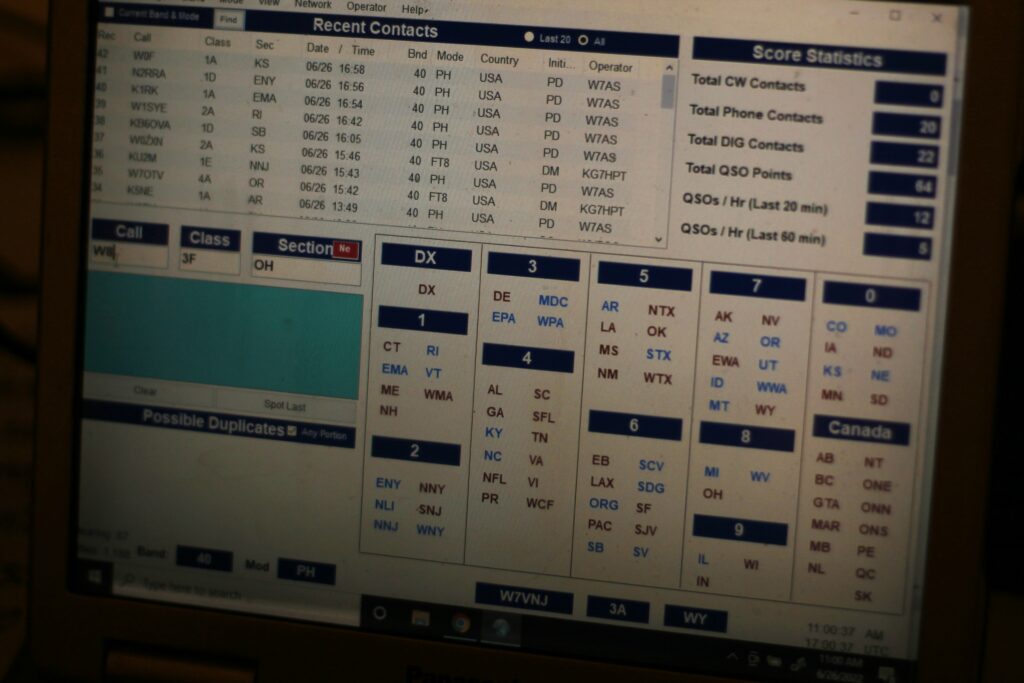 To challenge themselves further, ham operators often self-impose parameters on Field Day. Casper's group decided to use emergency power, relying on electricity from a generator to support its communication. Other groups might use solar power, or field expedient antennae, both of which pose unique challenges. Self-imposed limitations like these earn groups extra points, which add to their 24-hour totals.
Because radio waves travel through the air, they're very affected by the outdoor environment, the operators explained, which poses different challenges year-round for hams. "Not only does the Earth's weather affect it," explained Charles Nabers, but "it's our solar system, clouds, our troposphere. Some signals get absorbed in the clouds."
Solar flares and other disturbances can also interrupt their communications; because hams use a lot of high-frequency signals, any extra energy from the sun can absorb them as well.
"We copy a One Zero Juliet Victor," Peter continued into his microphone. "Please copy a Three Alpha, Three Alpha Whiskey…"
Peter's verbal outreach is known as phone communication, but the operators explained that ham radio can take other forms. Derek Moore, who worked on a laptop with his back to Peter, used computer software to establish connections, which is considered digital communication. It still doesn't use the Internet, however — only the software and some equipment to produce radio waves.
Ham radio operators can also use a designated frequency on a television to make connections. Additionally, they can communicate using Morse code, which can be helpful as it requires very little bandwidth and can be much easier to establish. "It's like, 'I can't call you, but I can text you!'" explained Garth.
While anyone can take part, ham radio operators need to be licensed by the FCC to ensure they can communicate properly and safely. Improper setup can produce radio waves that are harmful to humans, and hams need to make sure they aren't interfering with commercial or otherwise off-limits channels. There are three tiers to a ham license: technician, general and extra. Hams get more access as they upgrade their licenses; as they progress, they can operate on more frequencies and bands.
The club held a VE test at 2 p.m. on Saturday, where Charles upgraded his license from Technician to General, excited to explore the new opportunities available to him. Ham radio's national association, the American Radio Relay League, publishes manuals for operators from which Charles used to teach himself the exam material.
"Whiskey Seven Victor November Juliet!" asserted Peter. "One Echo Illinois, I'll give you a Three Alpha Whiskey Yankee!"
Garth Crow, the president of Casper's club, holds an Amateur Extra license, granting him the ability to use all ham frequencies. Garth wanted to be a ham operator from the time he was 11 years old, he told Oil City, because his friend's dad was in a club.
"He had a Jeep — the radio in his Jeep took up the entire passenger section," he recounted. "We were not allowed to sit in the front, we had to sit in the back." The other operators in the tent laughed at the size description, noting that the radios they use today can be as small as credit cards.
The age wasn't an issue as the FCC has a very young minimum for licensing — "I've got a grandson who's had one since he was eleven," mentioned Garth — but the distance posed a challenge. At that time, one needed to travel to the FCC office in Colorado to sit for an exam. Child Garth couldn't convince anyone to drive him, so the dream was put on hold until 1991, when he rekindled his interest at age 28.
In his time as a ham operator, Garth hasn't just achieved mastery — he's been directly involved in the situations ham radio prepares for at events like this.
"After 9/11, there was very little communication coming out of New York City for approximately three and a half weeks, four weeks," he explained. "There were ham radio operators with the fire department, police department, all of the emergency organizations, passing traffic."
Garth was one of them. "I lived in Evanston, and I worked up on the hill," he said. "I spent two hours a day for three weeks, you know, outside Evanston. Listening and relaying traffic for New York. Medical stuff — calling for blood to get to the military and all of that."
Ham operators also offered their services after the 2010 earthquake in Haiti. "Over 500 hams went down and set up communications all over the island — they didn't have any infrastructure," Garth said. "And then we ran a worldwide net from Haiti."
The community is on alert during active hurricane season every year, ready to pass health and welfare traffic to the affected area, usually the Gulf of Mexico, and help victims communicate with their families.
Recently, Garth assisted with an emergency after he happened to hear a Mayday call while on vacation. "As I was coming to the rest stop, I had my HF [high-frequency radio], just listening while we're driving down the road, and I hear this Mayday phone call. So I pulled into the rest stop, got the best orientation for the best signal, and started listening."
The call came from a ham in Washington, D.C., who said he could hear communication from men in a sailboat off the coast of Mexico. The men were trying to reach the American National Guard, to no avail. Garth was able to establish communication with the boat.
"The mast had broken on their sailboat. It hit one of the guys; he had a broken femur. Open fracture, and they couldn't get the bleeding to stop. He was in bad shape," recounted Garth. 
He was able to relay the situation to the ham in D.C., who called the Secretary of State. "They got ahold of the Mexican consulate, and the Mexican government, to get someone out there. … They were out of gas in their motor," he continued. 
Because ham radio was able to assist with communication, the men were reached in time, and the injured person received medical help before he bled out. 
"That, to me, is what ham radio is all about," Garth said. "Being able to step in."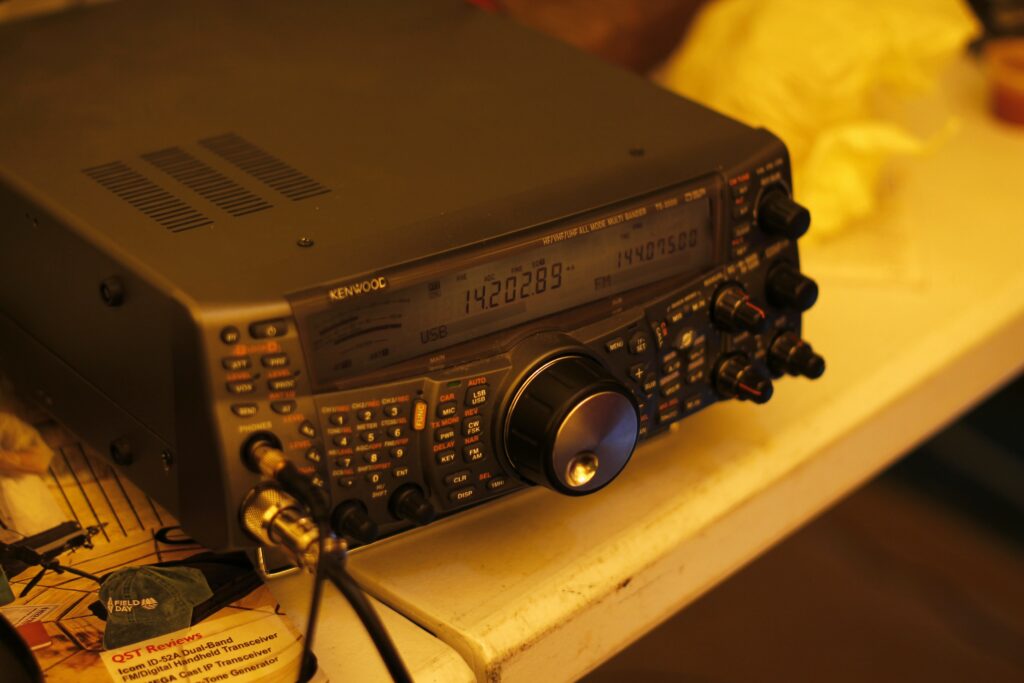 Garth has also done work for the U.S. military, volunteering for a program called MARS (Military Amateur Radio Service), which uses amateur radio to provide communication between servicemen and their families. Usually, ham volunteers will bring equipment to the families and allow them to talk to their loved ones directly. 
"If you talk to a military guy that's been in the service channel, chances are he's sent a message [using MARS]," said Garth. 
Casper's club volunteers for multiple local entities, like Casper Fire-EMS, making ham radio available if they need alternate communication services. Occasionally, they're able to help rescue hikers or backpackers who get lost or injured and don't have cell service.
"We try to stay as loose and available as we can for the needs of the state and the counties," Garth said. "A lot of the emergency coordinators for the county of Natrona, or whatever county, are the ones who set that preference, I guess you would say. And we work closely with them because there are some requirements that we have to meet."
Hams usually need to pass background checks to volunteer for government entities, as they can work with sensitive information or in high-risk situations. MARS requires specific licensing with the military, as the frequencies volunteers operate on are usually off-limits to them.
Around 12:05 p.m., Tate Belden's impressive beard preceded the rest of him through the tent flap. "Ladies and gentlemen, Field Day is over!"
Though they were hit with some technical difficulties trying to reach weaker stations on Saturday, Casper's hams ended their stint with a noteworthy set of numbers. The logging software showed 26 contacts by phone and 27 digitally, the second day averaging six connections an hour. With their emergency power modification factored in, the group collected a total of 80 points, which Peter lamented is higher on field days with less hardship.
The hams began to consolidate their equipment, collecting computers and radios and clearing the tent of its odds and ends. The big blue tower they'd rented was folded down, with Tate directing the others in taking it apart.
In the coming weeks and months, Casper's ham radio club looks forward to more ventures as well as an updated web page. Anyone interested in ham radio is welcome to attend the club's meetings, which are held on the first and third Wednesdays of each month. The club's schedule, with times and locations, can be found on its website.